July 19, 2019 — shinohai
After several days of huffing and puffing in the Unobtanium channel on Telegram, serial vaporware developer Bryce Weiner announced on twitter that he was leaving the UNO project. The wanting Weiner is known for his centralized shitcoin exchange alt.market (that will be ready any day now™®) and the "Bitcoin killer" shitcoin TAO (XTO), currently listed as "inactive" on coinmarketcap.
Tags: News, Bitcoin, Cryptocurrency, Lulz
July 06, 2019 — shinohai
Canonical Ltd (Ubuntu) source code repositories on Shithub were reportedly compromised this morning, complete with buttery screenshots. (archived)
No official word from Shithub or Canonical was available at the time of posting.
Tags: News, Insecurity, Lulz
July 06, 2019 — shinohai
The lulz in this story begin in a thread for the XJO cryptocuurency on bitcointalk. This guy suggests you can "run an entire 'DNM' on the XJO blockchain" and links to a javascript page (archived) that will happily eat your private keyz and encrypt and decrypt thingz for you!
Why this is incredibly stupid:
iGolder.com should be all you need to know, but you can also google search it if you wish.
No mention is made of airgap setups, and the joulecoin.info site is connected to the internet when performing crypto functions.
No mention made of layering (see above), and why you should be using 4096-bit or higher rsa keys for any comms, period.
Cost of 51% attacks and other lulz would be near nothing for interested 3-letter agencies.
Point #1 is honestly enough to end this discussion.
"But it's so luser friendly, everyone can do it!"
There is no scenario that exists, or shall ever exist, where "paste your key here" ever becomes proper handling of cryptographic keys, and certainly not in situations that require proper OPSEC and associated sanitation procedures. This is seriously the most retarded post I've read all year, and tardstalk produces some very brain-damaged threads.
TL;DR OP is an utter moron and you should seek advice elsewhere if you use crypto in any high-risk situations.
Tags: News, Cryptocurrency, Insecurity, Lulz
June 29, 2019 — shinohai
via Shithub.
"At present I (speaking only for myself) do not believe the global keyserver network is salvageable. High-risk users should stop using the keyserver network immediately."
etc.
Update: Bonus lulz from phuctor.
Tags: News, Insecurity, Lulz
June 18, 2019 — shinohai
Mark Zuckerberg finally finds some webshits capable of badge-engineering a "cryptocurrency" to life, and calls it Libra
In ancient Rome, the Libra was equivalent to roughly 12 ounces. An inquiry to facebook offices as to whether Libra would be backed by 12 Oz of Mark Zuckerberg's shit spray-painted gold with a certificate of authenticity went unanswered.
Tags: News, Cryptocurrency, Lulz, Webshit
May 30, 2019 — shinohai
Telegram never fails to produce lulz, and an endless stream of scammers that scout cryptocurrency channels for marks. Since I'm an admin in the Unobtanium channel, I get plenty of unsolicited messages from institutional investors and princes from Monaco that wish me to part with my precious UNO. To wit: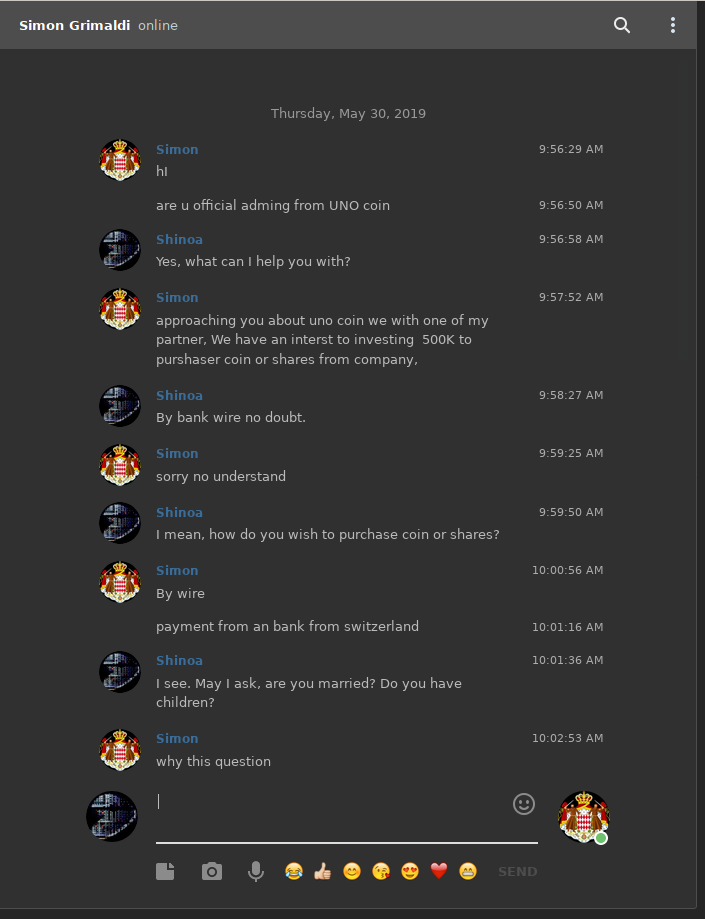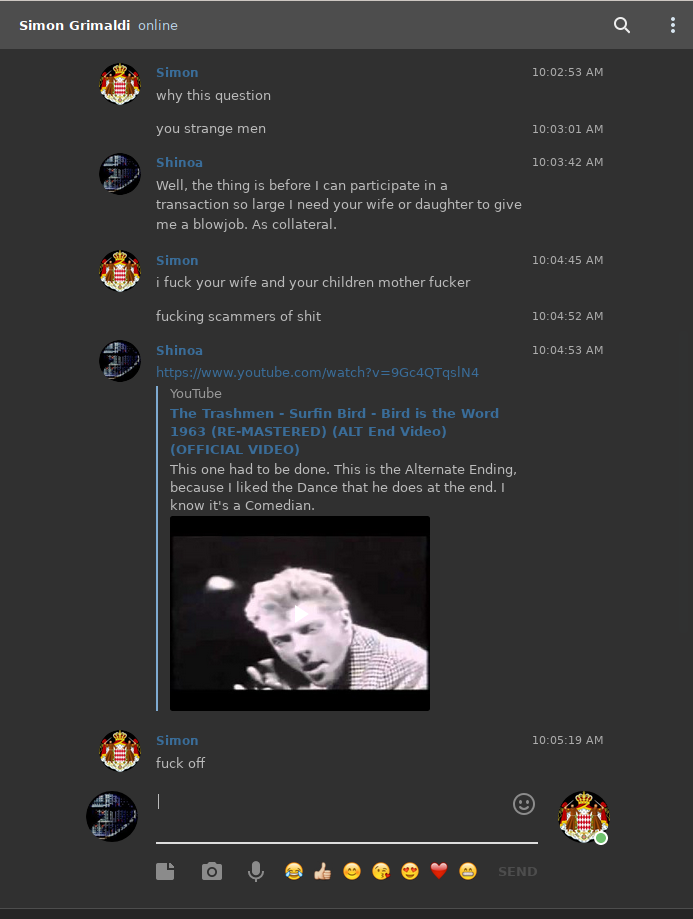 Scammers suddenly get all moral when you discuss sexual acts with them. This guy supposed that blackmailing me by threatening to inform the other admins what I was up to was the solution. Fortunately, the other team members are well aware I'm a degenerate that uses unconventional methods.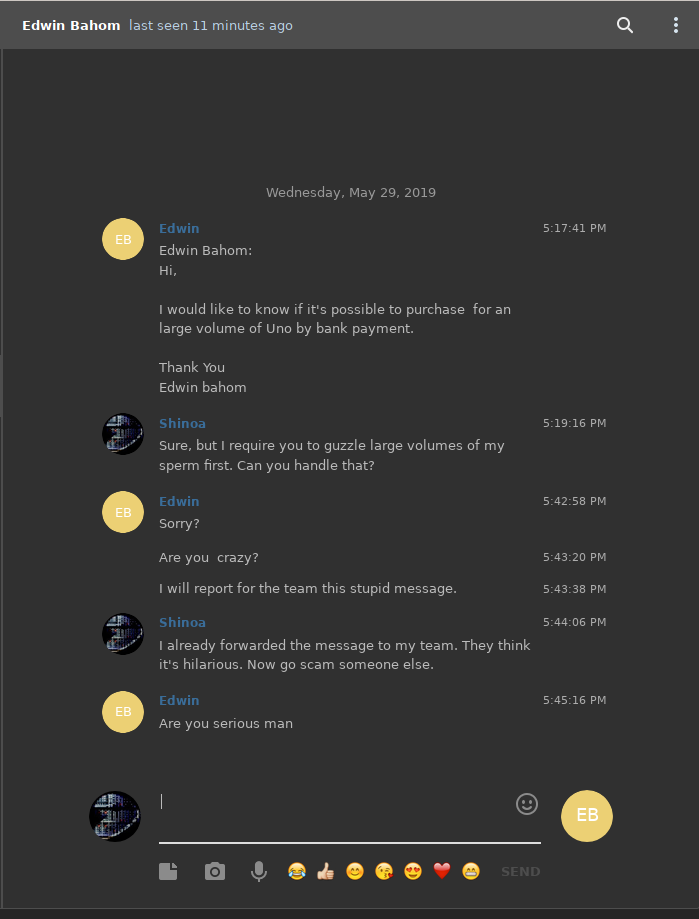 This is, of course, just a sampling of the countless messages I have received. I imagined that I might end up on some sort of scammer "do not contact" list, but since Nigeria alone has a population of roughly 191 Million, it might take some time.
Bring it on.
Tags: Bitcoin, Cryptocurrency, Lulz, Scams
May 17, 2019 — shinohai
Roger Ver gives us our morning dose of lulz with this reply over the wire to hoaxtoshi's claims:

gentoo ~/devel/bitcoin/bin/ # 

./bitcoin-cli verifymessage \
16cou7Ht6WjTzuFyDBnht9hmvXytg6XdVT \
G39S6i4XsfQnixN5ePMjVPboWvGXdnW8xFFAXiwEriZFCclflbD7umP58u3Sl+dvvXC5BxBrRNkTMNf92O1UIXw= \
"Address 16cou7Ht6WjTzuFyDBnht9hmvXytg6XdVT does not belong to Satoshi or to Craig Wright. Craig is a liar and a fraud."





true



Hoaxtoshi and Calvin Ayre will likely publish a Coingeek article disputing the claims. Popcorn is on sale in the lobby all this weekend and next week.
Tags: News, Bitcoin, Cryptocurrency, Lulz
May 15, 2019 — shinohai
Binance CEO Changpeng Zhao actually suggested mimicking mEthereum and performing a block reorg to enable his exchange to recover from a 7`000 BTC SFYL earlier this month. Mr. Zhao apparently forgot that Bitcoin is immutable and many came out to mock his McAfee-level stupid suggestions. Blockstream CEO Adam Back was quoted as saying:
"You just have to accept that Bitcoin is final because a whole bunch of factors which we can get into, but it's basically, you know, all of the infrastructure is set up to automatically just continue consuming and finalizing transactions. And there's a lot of inertia and equipment that's just running away, mining transactions, so it's very hard. The software is not designed to undo things. The infrastructure isn't designed to undo it. And there's all kinds of side-effects if you did. And the side-effects are both technical and economic. "In game theory, if you can undo something, the attacker can do other things. And people who disagree with the reorg can do other things. People are very incentivized to see it not happen because they've seen other coins have this happen and suffer a great loss of credibility as a result. And there are also geopolitical issues that, you know, you would establish a precedent that would erode one of the major benefits of Bitcoin, being censorship-resistance, which ties back to this kind of finality of the network."
#btcinfo extends condolences to Binance and Mr. Zhao, and are so very sorry for your loss.
Tags: News, Bitcoin, Cryptocurrency, Lulz, Webshit