March 15, 2019 — shinohai
A Japanese court found former Mt. Gox CEO Mark Karpeles guilty of tampering with financial records, but elected to suspend his 2.5 year sentence and allowing him to avoid squealing like a pig in prison.
Bloomberg reported that Karpeles viewed his treatment by Japanese authorities as unfair, instead of thanking them for helping him shed some much needed weight:
Karpeles has said he was interrogated for months without a lawyer and bullied into signing a confession, a "nightmare" process during which he lost 77 pounds over 11 months.
The government of the U.S. still blames Russian national and former btc-e exchange operator Alexander Vinnik for laundering the stolen funds from Mt. Gox and is attempting to extradite him to America to face charges. (archived)
March 13, 2019 — shinohai
tl;dr: BlockCypher decides to continue to offer support for Ethereum despite services being non-operational for almost a month following the recent "upgrades" to the network.
After examining every which way we could think of to add the Trie state to our Ethereum state, we asked Vitalik for assistance. His first comment to us was "oh you're one of the few running one of those big, scary nodes." We asked him if he knew of anyone else running a "big, scary node" to see if we could possibly sync with them. He knew of no one, not even the Ethereum Foundation keeps a full archival copy of the Ethereum chain.(Emphasis added) We were back to square 1: starting the Full sync again, this time including the Trie state.
This led to stunning results:
"Lesson Learned #3: In the event of a chain re-organization, we may be the only ones to know the entire history of Ethereum transactions."
This seems to mark a developing trend of aversions to a "foundation" model though running big, scary nodes will always remain the only method to ensure a complete and accurate history of the blockchain.
You can read the entire shitty medium post discussing these lulz here if you're so inclined.
Tags: News, Bitcoin, Cryptocurrency, Lulz, Webshit
March 06, 2019 — shinohai
weechat-log-to-html is a Haskell script that converts weechat logs to no-nonsense html. This addition to the /library/ is part of this years goal to excise as much pythonshit as possible from everything I use on a regular basis. Individuals that have Bitlbee hooked up to their weechat will be pleased to know that this script also beautifully parses things such as telegram or discord logs, for which no suitable logger (at least not one written in the aforementioned pythonshit or nodejs) can be found.
To use:
Compile the script using `ghc` - I used version 8.0.2 with good results. Then simply run something like the following:

./weechat-log-to-html < (weechatlog) > output.html

Example output:

Once verified that it works for you, you can simply add the script to a cronjob to monitor the irc channels and other chats you wish to log.
March 03, 2019 — shinohai
Thailand's equivalent of the SEC announced it would be prohibiting the exchange of BCH (Btrash) and a handful of other cryptocurrencies in order to "protect its citizens" from fraud. The r/btc lemming force is expected to coordinate hundreds of posts later in the week denouncing all things Thai, which likely will stay confined to the reddit corral now that twitter CEO Jack Dorsey said he would not add Btrash as on option on Square payments or twitter. (archived)
February 28, 2019 — shinohai
Today's Lulz come courtesy of "Bitcoin Wallet" Coinomi, which handily sent user passwords over Google spell check in plain text using their Webshit framework. btcinfo sends condolonces to affected "users" and is very SFYL. (archived)
Tags: News, Bitcoin, Lulz, Webshit
February 14, 2019 — shinohai
US Based JP Morgan Bank launches its own USD pegged "cryptocurrency" to the public. SFYL induced peggings expected to be reported in future posts. (archived)
Tags: News, Cryptocurrency, Lulz
February 06, 2019 — shinohai
Fork of a fork of BTC BitcoinSV's recent increase in the OP_RETURN data size has led to unknown individuals using it to store child pornography images on the BSV chain. The images were placed into tx's using Ryan X. Charles "Money Button" service, which makes it easy to embed data into transactions. Unlike the links to CP discovered in the actual Bitcoin blockchain, the "Bigger Blocks" allow for full images to be stored immutably on their blokechain and will likely be heralded as BSV and nChain's "Killer App". (archived)
Tags: News, Bitcoin, Cryptocurrency, Lulz
January 31, 2019 — shinohai
Cryptocurrency NEM (XEM) announced it is "nearly broke" after blowing through 80 Million NEM tokens (valued at ~$4 Million USD at time of writing) in just a little over a year, which was used to advertise vaporware. Layoffs and restructuring are in the works in an attempt to save the organization, according to newly elected foundation president Alex Tinsman, and the group is begging the community for double the amount of tokens (160 XEM, ~7 Million USD) to avoid imminent doom. Ms. Tinsman promised that none of the funds would be used for marketing, though she believes scummy affiliate marketing tactics can help monetize the foundation and avoid future bailout requests. The foundation currently consists of around 200 members who pay an annual $50 fee and must dox themselves in order to vote. (archived)
Tags: News, Cryptocurrency, Lulz
January 30, 2019 — shinohai
The operator of the MPEx brokerage service CoinBr, jurov, announced in a blog post this morning that the service would be shuttering its online operations for the foreseeable future. Lack of interest and 0 usage in the past year were cited as reasons for the change, unsurprising considering the general poor performance of TMSR enterprises during that time period. Captain obvious makes an appearance later in the #trilema logs declaring that hand-cranked processes are superior to automated ones, also unsurprising when proffered services aren't being used.
January 24, 2019 — shinohai
John McAfee announced earlier this week that the U.S. Internal Revenue Service is allegedly charging him with felony tax evasion for 8 years non-payment of taxes, and that he will be "running his Presidential campaign from exile on a vessel dubbed "The Freedom Boat".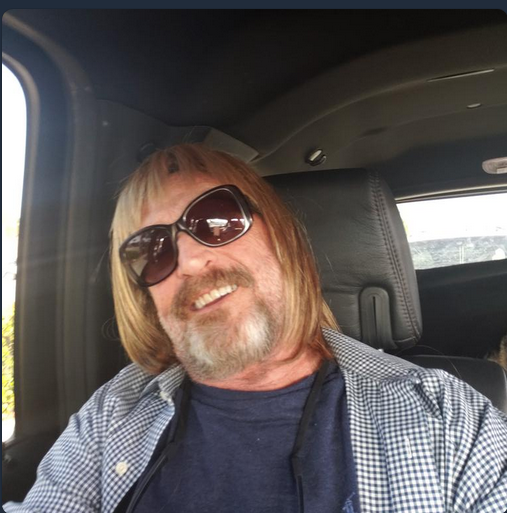 McAfee assured his followers on twitter that he would be releasing videos every day as long as the exile lasts, which leads the author to the conclusion that ample supplies of tinned penis, Xanax, and electronic equipment were provisioned in the freedom boat's hold before casting off. (archived)
Tags: News, Cryptocurrency, Insecurity, Lulz
January 20, 2019 — shinohai
I had originally intended this to be a better version of the build instructions I mirrored from the foundation website, but decided to wait for the regrind before making a post, since the foundation planned on updating everything anyway. A few days later mod6 published a blog post detailing the steps he took to update the trb vtree from SHA512 to Keccak vpatches, so that is what will be covered in this post. What I did was, I went through all the similar steps just as in mod6's post, and I created my own keccak trb vtree, just as mod6 did. I then was able to confirm that my keccak trb vtree and his keccak trb tree are a mechanical match. I also did a diff of my keccak trb vtree against the original SHA512 vpatches, and we can see that only difference is the removal of the UTF8 character from genesis.vpatch.
You will need all of the dependencies listed on the bitcoin foundation website in the "how-to" section. A modified version of mod6's `v.pl` (that produces Keccak hashes) and a few other tools are also needed: these can be obtained from diana_coman's website. I no longer use nor support any other flavor of Linux besides Gentoo for any projects discussed on this site , so users of other distros will be required to do their own research to make all this work. I am using a Cuntoo chroot here, and for the sake of thoroughness, here is a list of the exact versions of the dependencies I used:

*  sys-devel/bc 1.06.95-r2
*  sys-devel/gcc 4.9.4
*  app-crypt/gnupg 1.4.10
*  net-misc/wget 1.19.5
*  net-misc/curl 7.61.1
*  dev-lang/perl 5.24.3-r1
*  sys-devel/patch 2.7.6-r2
*  net-misc/rsync 3.1.3
*  sys-apps/coreutils 8.29-r1
*  app-arch/unzip 6.0_p21-r2
*  app-arch/bzip2 1.0.6-r10
*  app-arch/cpio 2.12-r1

A working Ada setup is required to build vk.pl and the tools from diana-coman's starter pack. mod6 also wrote a handy and very detailed guide to doing this here. Since I am using a clean chroot to perform all these steps, I needed to install a new copy of Adacore, so I proceeded to grab a copy of the gnat-gpl-2016-x86_64 version from the AdaCore website here, though for some reason the page 404'd at the time I was doing these tests. Fortunately diana_coman also has this preserved on her website here for those that might need it in the future.
Once that was installed, I checked to ensure it was, in fact, the proper version:

Perfect! Building the starter pack is very painless and took less than a minute for me.
Now I moved on to the actual regrind by setting up the suggested sandbox and moving down the list of steps in mod6's blog post. This also went quite painlessly, my only snafu being I forgot to add back a hyphen "-" for the utf-8 char removed from line 118 of util.h, which caused a byte mismatch later in the process. Once that was done, I had no other problems with the process and was ready to test using mod6's experimental patchset and seals which he handily provides here, along with the signature for same. This part requires one follow the `OFFLINE` build steps from the foundation website, so it will be necessary to download the dependencies from deedbot if you don't have a copy stored somewhere already. I put all the links inside a bash script, intentionally leaving off the -sSL flags so I could observe their download progress.

cd deps/

cat >eu.sh<<EOF
curl http://deedbot.org/deed-430460-2.txt > rotor.tar.gz.asc
curl http://deedbot.org/deed-430460-1.txt > rotor-db-configure-fix.patch.asc
curl http://deedbot.org/deed-422651-1.txt > boost_1_52_0.tar.bz2.asc
curl http://deedbot.org/deed-422651-2.txt > buildroot-2015.05.tar.gz.asc
curl http://deedbot.org/deed-422651-3.txt > db-4.8.30.tar.gz.asc
curl http://deedbot.org/deed-422651-4.txt > openssl-1.0.1g.tar.gz.asc
curl http://deedbot.org/deed-427443-1.txt > binutils-2.24.tar.bz2.asc
curl http://deedbot.org/deed-427443-2.txt > busybox-1.23.2.tar.bz2.asc
curl http://deedbot.org/deed-427443-3.txt > expat-2.1.0.tar.gz.asc
curl http://deedbot.org/deed-427443-4.txt > fakeroot_1.18.4.orig.tar.bz2.asc
curl http://deedbot.org/deed-427443-5.txt > gcc-4.9.2.tar.bz2.asc
curl http://deedbot.org/deed-427443-6.txt > gdb-7.8.2.tar.xz.asc
curl http://deedbot.org/deed-427443-7.txt > gmp-6.0.0a.tar.xz.asc
curl http://deedbot.org/deed-427443-8.txt > linux-3.18.14.tar.xz.asc
curl http://deedbot.org/deed-427443-9.txt > m4-1.4.17.tar.xz.asc
curl http://deedbot.org/deed-427443-10.txt> mpc-1.0.3.tar.gz.asc
curl http://deedbot.org/deed-427443-11.txt> mpfr-3.1.2.tar.xz.asc
curl http://deedbot.org/deed-427443-12.txt> musl-1.1.8.tar.gz.asc
curl http://deedbot.org/deed-427443-13.txt> ncurses-5.9.tar.gz.asc
curl http://deedbot.org/deed-427443-14.txt> pkgconf-0.8.9.tar.bz2.asc
EOF

chmod +x deps.sh
./deps.sh

After enjoying un cafecito, the dependencies were finished downloading, so I deleted the script and changed back to the bitcoin directory. A simple `make` completes the process. I encountered no hiccups, and roughly a half hour or so later had a nice shiny bitcoind produced using vk.pl and the keccak patchset only.

In the interests of science, and to ensure repeatable results I went a step further and redid all the regrind steps in a fresh sandbox, and signed a copy of all the patches with my gpg key. Before performing a press I put mod6's copy of the patches in a directory `a` and mine in a directory `b` and ran `diff -uNr a b` against them to ensure they matched, which they did. This build also went fine with no errors, and output a 4.7M to bin/. Now let's test it: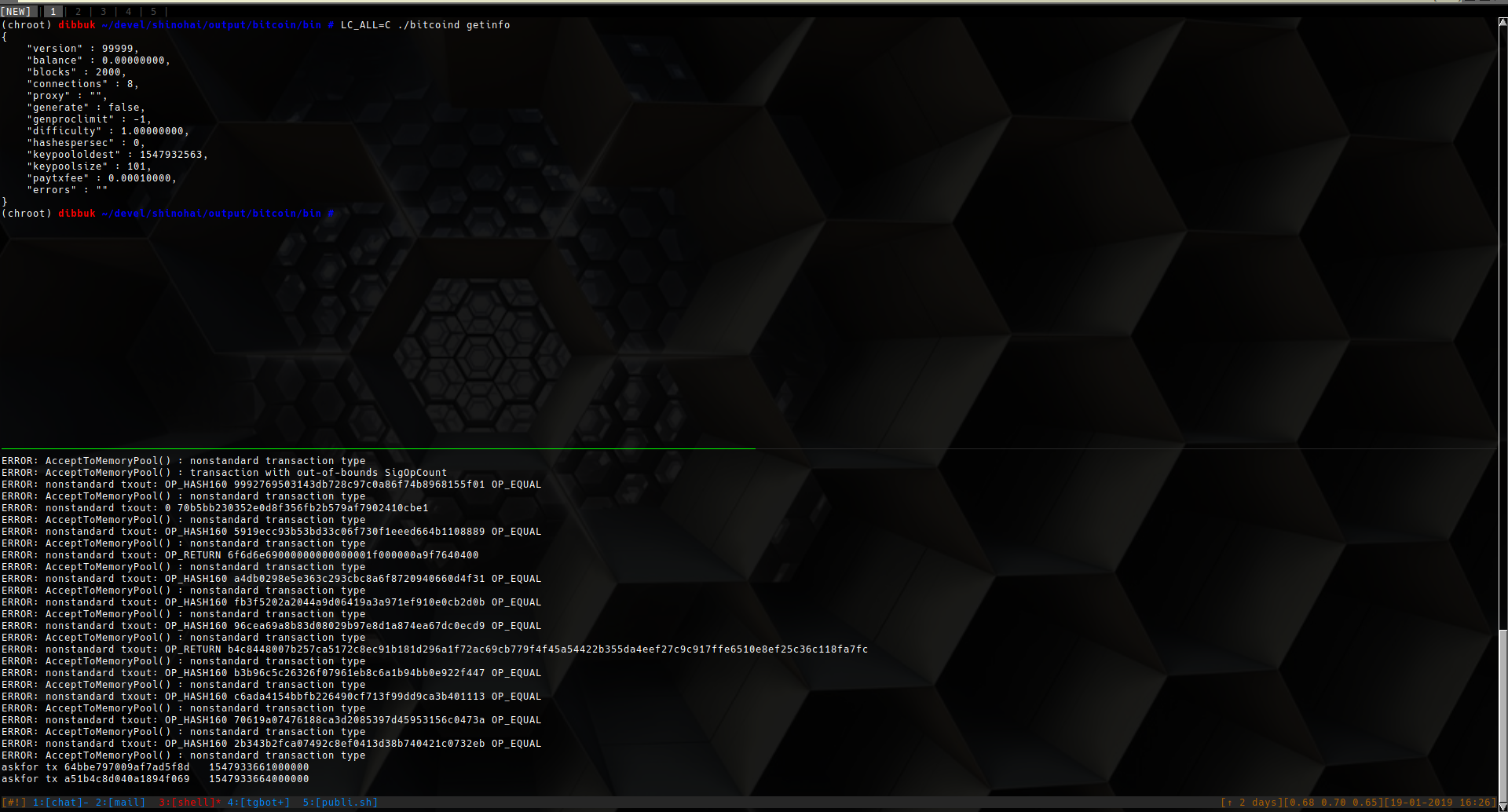 In conclusion, this work represents an outstanding effort on the part of mod6 to ensure trb remains unmolested in the future. I have uploaded my copies of the resulting patches and the corresponding seals here for those that wish to compare them with their own during testing.
January 15, 2019 — shinohai
Ethereum,
the gift that keeps on giving
, has been forced to delay the long awaited "Constantinople" upgrade after researchers with ChainSecurity discovered a loophole that would
pretty much recreate the DAO attack of 2016
all over again. This latest fail is the second time the upgrade has been delayed due to mETH devs having no idea what they are doing.
(archived)
Tags: News, Cryptocurrency, Lulz, SFYL
January 11, 2019 — shinohai
The 51% on the ETC network reported earlier this week appears to have been orchestrated by enterprising individuals who managed to rewrite tx history and make off with $220K USD worth of ETC from shitcoin exchange Gate.io. (archived)
The exchange reported that the SFYL occured between 0:40 Jan.7, 2019 and Jan 4:20 Jan.7, 2019 UTC and lasted a mere 4 hours.
"All the transactions were confirmed normally on the ETC blockchain and became invalid after the blockchain rollback."
US based exchange Conbase also reported a "$1 Million USD loss" of ETC using the same methods during the attack window. Gate.io announced it would be absorbing the cost of the SFYL for it's customers.
Tags: News, Bitcoin, Cryptocurrency, SFYL, Lulz
January 11, 2019 — shinohai
Having gotten trinque's excellent Cuntoo bootstrap working on a few different machines, I decided I'd try building a Eulora client with it. This post is to document the steps I followed to get to a working state, as the instructions on the minigame website are outdated and contain dead links.
In this guide, I am using gcc 4.9.4 - I'm pretty sure this is a hard requirement. Crystalspace for whatever reason requires you have the nvidia-cg-toolkit installed even if you use an ATI card, so go ahead and get that via portage:

emerge -av nvidia-cg-toolkit

I have a ~/devel directory already from building trb, so I'll start there and make a eulora directory beside it:

mkdir -p eulora/ && cd $_

Grab cal3d, crystalspace, and the Eulora client files from the minigame site:

wget http://minigame.biz/eulora/source/cal3d.tar.gz
wget http://minigame.biz/eulora/source/cs_July24.tar.gz
curl http://minigame.biz/eulora/source/eulora-v0.1.2b.tar.gz > eulora-v0.1.2b.tar.gz

Untar that shit.

tar -zxvf cal3d.tar.gz
tar -zxvf cs_July24.tar.gz
tar -zxvf eulora-v0.1.2b.tar.gz

Navigate to cal3d/ and run the following commands to build:

autoreconf --install --force
./configure --prefix=$HOME/devel/eulora/cal3d
make
make install

Tell other programs where to find the cal3d things we just built:

export LD_LIBRARY_PATH=$HOME/devel/eulora/cal3d/src/cal3d/.libs/:$LD_LIBRARY_PATH

Go back to ~/devel/eulora/ and enter the cs-forupload folder:

cd ../cs-forupload/

To build crystalspace I had to adjust the configure step to avoid anything bullet related, or the jam build step will barf. Use the following commands:

./configure \
--without-java \
--without-perl \
--without-python \
--without-3ds \
--without-bullet \
--with-cal3d=/$HOME/devel/eulora/cal3d

jam -aq libs plugins cs-config walktest

Export the crystalspace environment variable:

export CRYSTAL=$HOME/devel/eulora/cs-forupload

Finally, go back to ~/devel/eulora/ and enter the EuloraV0.1.2 folder ...

cd ../EuloraV0.1.2/

...and build the client:

./autogen.sh
./configure \
--with-cal3d=$HOME/devel/eulora/cal3d \
--with-cs-prefix=$CRYSTAL \
--without-mysqlclient \
--without-sqlite3 \
--without-pq \
--without-hunspell

jam -aq client

Eulora servers got a new home in 2018, so we must edit the server ip in data/servers.xml:

sed -i 's/50.115.127.84/161.0.121.201/' data/servers.xml

Now, to avoid having to manually enter the environment variables each time we want to play, we will create a shell script containing those and make it executable:

cat >eu.sh<<EOF
export LD_LIBRARY_PATH="$HOME/devel/eulora/cal3d/src/cal3d/ \
.libs:$HOME/devel/eulora/cs-forupload/:"$LD_LIBRARY_PATH
export CRYSTAL=$HOME/devel/eulora/cs-forupload
./euclient
EOF

chmod + eu.sh

./eu.sh

It was night in Eulora when I finished, so I only took a single screenshot of client startup. More to come as I test further.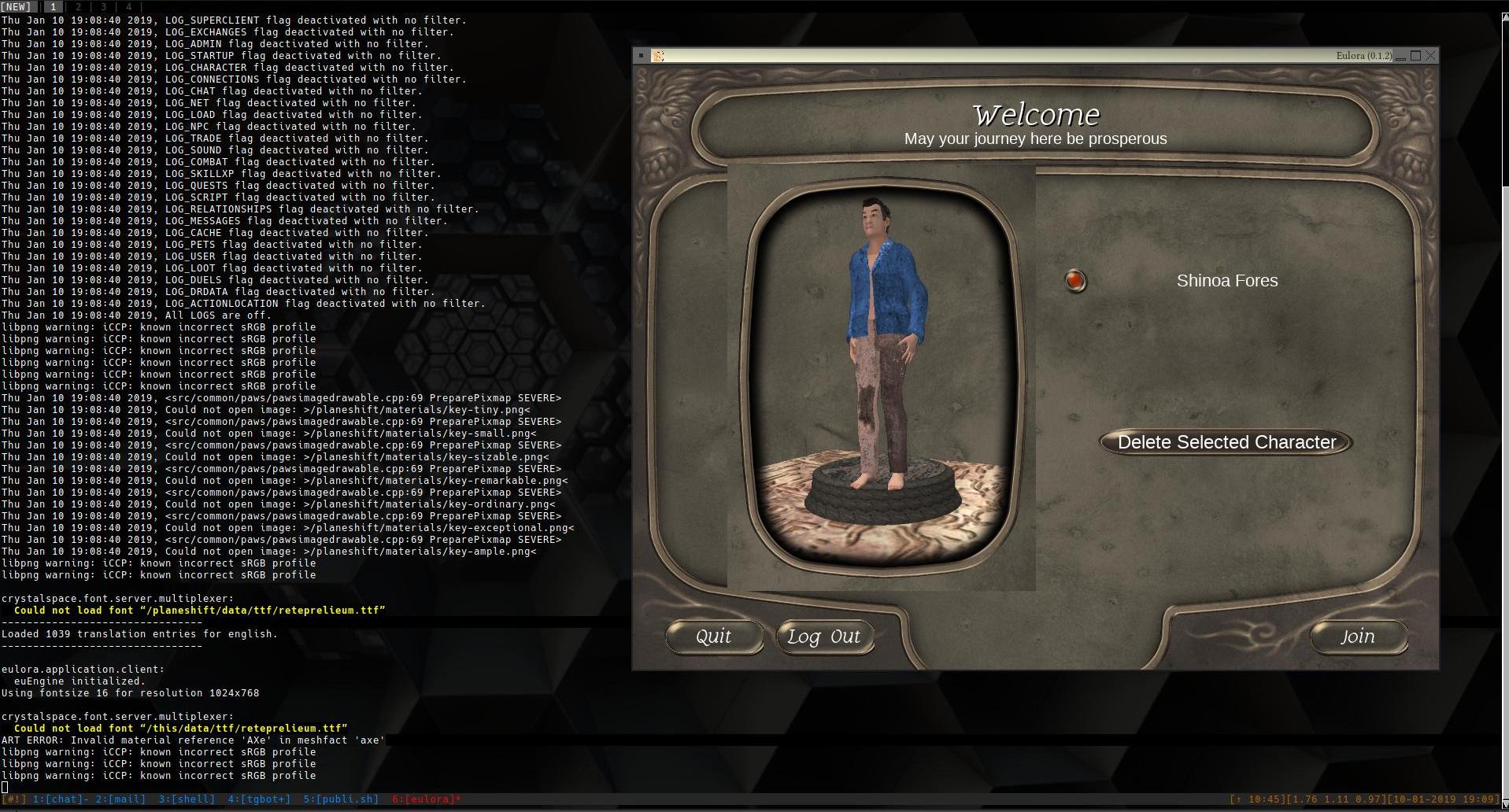 May your journey be prosperous ....
January 09, 2019 — shinohai
Shitcoin exchange shapeshift.io announced that it is "laying off" 37 people, or around a third of its workforce. CEO Erik Voorhees
wrote in a medium post
that there were multiple factors included in this decision, though he may use some terms unfamiliar to readers. We will attempt to translate a few below.
According to Voorhees:
ShapeShift diversified its product line too early and in too many verticals, resulting in financial, legal, and time costs.
Translation: "We added support for just about every shitcoin imaginable and are surprised at the result."
We had customer issues. Business was declining from both aggregate market recession and increased competition. Our imposition of KYC?d accounts, themselves the result of trying to be cautious in a challenging regulatory environment, caused many of our most valuable API partners to leave us for competitors who have not perceived regulatory risks in the same way. We expected it, but still, it stung both financially and psychologically.
Translation: "We decided to capitulate to fiat demands and are surprised at the result."
2018 marked a rough year. While this new one starts upon some painful reorganization, we?re encouraged and hopeful for 2019.
Translation: "We lost so much money in 2018 we had to fire people but are still hopeful that *someone* out there that will continue to buy our shitcoin bags in 2019."
...and so on.
Headlines such as these have been trending lately, likely Festivus miracles that began with similar announcements by Coinbase, Steemit, Bitmain, and others. Other manifestations of miracles were reported by Qntra this month, where it was noted that mETH addicts were experiencing a chain reorganization with predictable results.
Tags: News, Bitcoin, Cryptocurrency, Lulz
January 07, 2019 — shinohai
A carbon copy of mETHereum undergoes a suspected 51% attack after several deep block reorgs. Naturally nothing of value was lost or ever at stake.
Tags: News, Cryptocurrency, SFYL
January 07, 2019 — shinohai
Deciding that not enough cracks are visible in their wallet design, Ledger announced a new device called "LedgerX" that eminently hackable bluetooth support, which will handily announce your candidacy for SFYL to anyone within 10-20 meters. The company already entered the New Year as a loss leader after the wallet.fail team reviewed the device and determining it to be covered in webshit.
January 03, 2019 — shinohai
On this date ten years ago the Bitcoin genesis block was mined by Satoshi Nakamoto. Despite repeated attempts to sabotage the project from within and without, the network continues to grow and blocks steadily mined.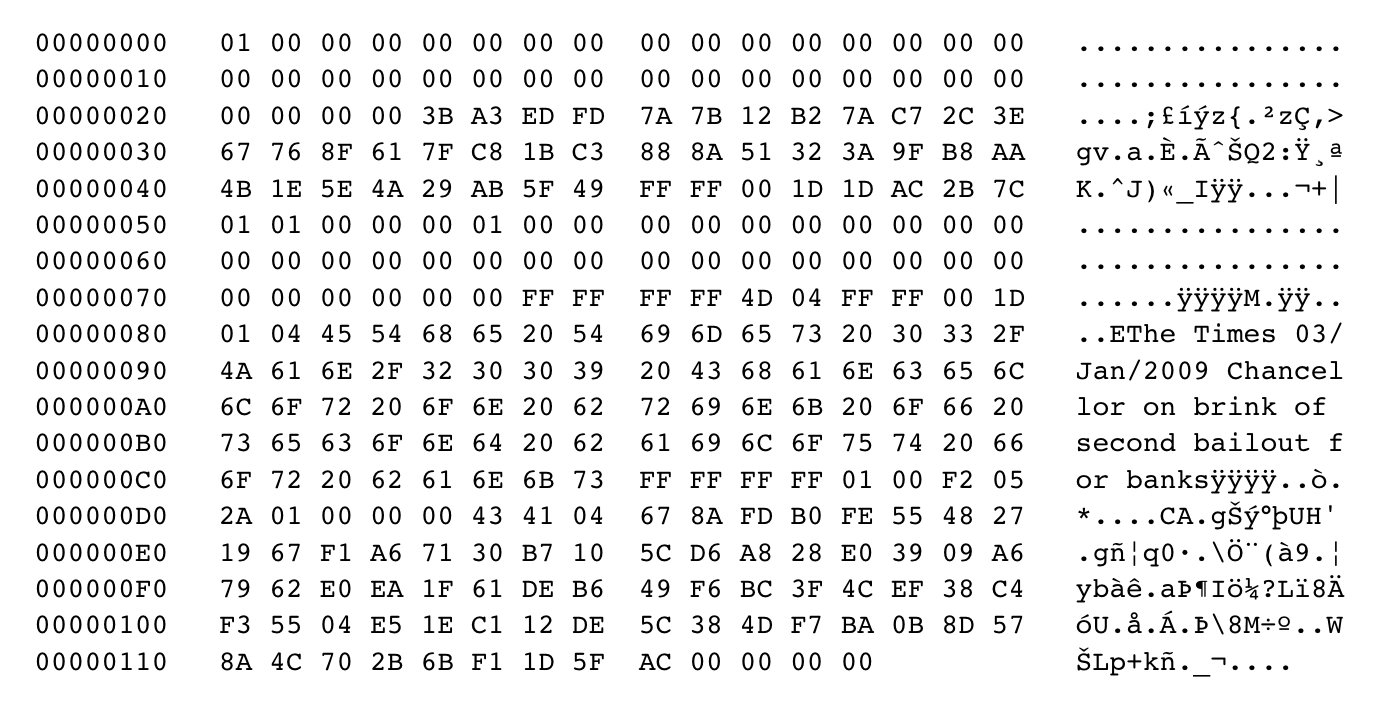 Here's to ten more years of sovereignty ..... cheers!
December 25, 2018 — shinohai
Rumors swirling on "executive social media" site LinkedIn hint that mining conglomerate Bitmain is slashing the size of it's workforce by 50%, most of the affected employees being part of a BTrash wallet development team calling itself "Copernicus". The company famously concentrated a large amount of resources towards supporting Roger Ver and mining the Bcash fork of Bitcoin, and are now experiencing the SFYL that naturally occurs when people chase scamcoins. (archived)
Tags: News, Bitcoin, Cryptocurrency, Scams
December 25, 2018 — shinohai
While searching for the Basic games collection the other day, I stumbled upon a forgotten archive containing roms for a bunch of old handheld electronic games from the 70's and 80's. If you had any of the games on the list below, your childhood was likely pretty awesum. I have used MESS to run these, but feel free to try on other platforms (as I did not include any MESS-specific xml files with this archive).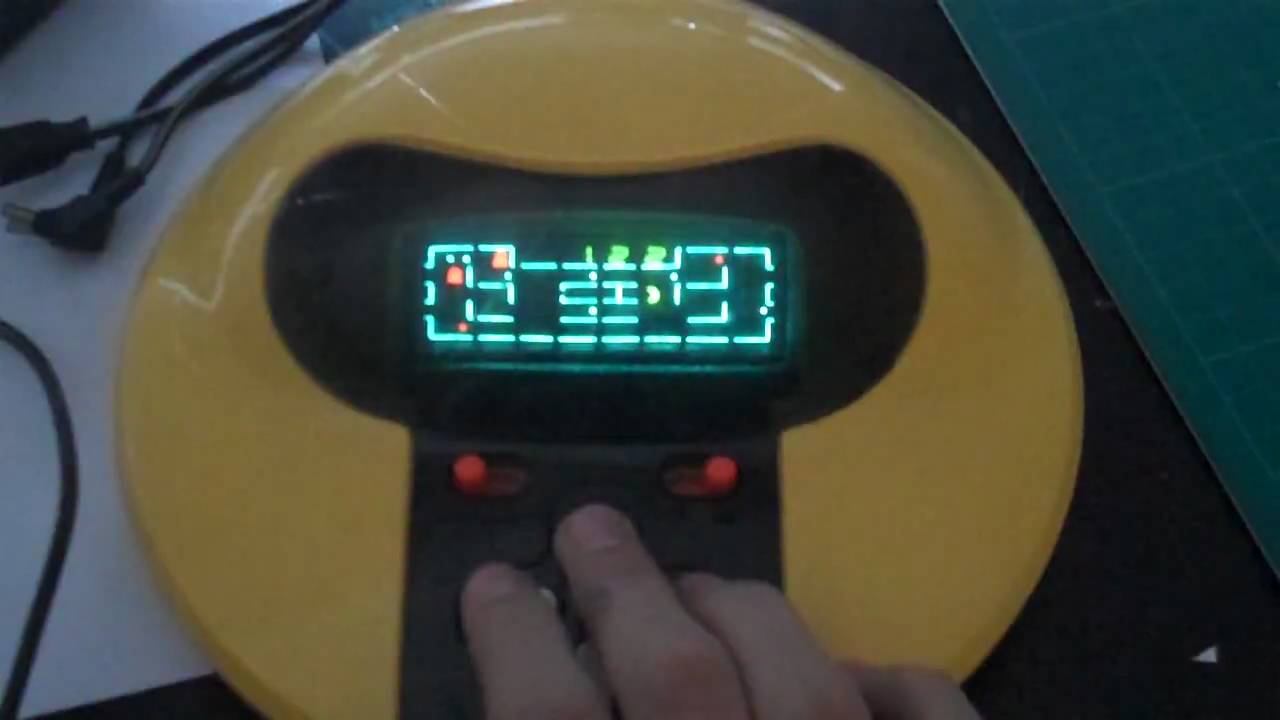 List of games contained in archive:

ROM NAME:         GAME:
---------------------------------------------------------------
advision          "Adventure Vision"
alnattck          "Alien Attack"
alnchase          "Alien Chase"
amaztron          "Amaze-A-Tron"
astro             "Astro"
astrocmd          "Astro Command"
bambball          "Dribble Away Basketball"
bankshot          "Bank Shot - Electronic Pool"
bcclimbr          "Crazy Climber (Bandai)"
bdoramon          "Dokodemo Dorayaki Doraemon"
bfriskyt          "Frisky Tom (Bandai)"
bmboxing          "Knock-Em Out Boxing"
bmsafari          "Safari (Bambino)"
bmsoccer          "Kick The Goal Soccer"
cdkong            "Donkey Kong (Coleco)"
cgalaxn           "Galaxian (Coleco)"
cmspacmn          "Ms. Pac-Man (Coleco)"
comp4             "Comp IV"
cpacman           "Pac-Man (Coleco, Rev. 29)"
cpacmanr1         "Pac-Man (Coleco, Rev. 28)"
ebball            "Electronic Baseball (Entex)"
ebball2           "Electronic Baseball 2 (Entex)"
ebball3           "Electronic Baseball 3 (Entex)"
edracula          "Dracula (Epoch)"
efball            "Electronic Football (Epoch)"
egalaxn2          "Galaxian 2 (Entex)"
einvader          "Space Invader (Entex, TMS1100)"
epacman2          "Pac Man 2 (Entex)"
galaxy2           "Galaxy II"
gckong            "Crazy Kong (Gakken)"
gdigdug           "Dig Dug (Gakken)"
ghalien           "Heiankyo Alien (Gakken)"
gjackpot          "Jackpot: Gin Rummy & Black Jack"
gpoker            "Poker (Gakken, 1979 version)"
h2hbaseb          "Head to Head Baseball"
h2hfootb          "Head to Head Football"
invspace          "Invader From Space"
kingman           "Kingman"
machiman          "Machine Man"
maniac            "Maniac"
mathmagi          "Mathemagician"
merlin            "Merlin - The Electronic Wizard"
microvsn          "MicroVision"
mmerlin           "Master Merlin"
msthawk           "Star Hawk (Mattel)"
mvbfree           "Mini-Vid Break Free"
mwcbaseb          "World Championship Baseball"
packmon           "Packri Monster"
pbqbert           "Q*Bert (Parker Brothers)"
raisedvl          "Raise The Devil"
simon             "Simon (Rev. A)"
splasfgt          "Space Laser Fight"
splitsec          "Split Second"
ssfball           "Superstar Football"
ssimon            "Super Simon"
starwbc           "Star Wars - Electronic Battle Command"
starwbcp          "Star Wars - Electronic Battle Command (prototype)"
tandy12           "Tandy-12: Computerized Arcade"
tc4               "Total Control 4"
tcaveman          "Caveman (Tomy)"
tccombat          "Cosmic Combat"
tmpacman          "Pac Man (Tomy)"
tmscramb          "Scramble (Tomy)"
tmtennis          "Tennis (Tomy)"
tmtron            "Tron (Tomy)"
ufombs            "UFO Master-Blaster Station"
vinvader          "Invaders (VTech)"
wildfire          "Wildfire (prototype)"
zackman           "Zackman"